The New iPad Has Overheating Issue?
2
The iPad may be the best tablet on the market but it is not perfect. Apple has had to deal with antennagate and other similar issues in the past. Some new iPad owners are now complaining that their devices gets too warm.
After setup, I left it plugged in to fully charge it.  A couple hours later (still plugged in), I turned it on and used the new hi-res Kindle app.  After a few minutes I felt the ipad getting warm in the same corner.  I figured it was because of charging.  So I unplugged it, left it turned off on a table for an hour and let it cool off.  Came back and used it to surf google-news (not playing videos or playing media, with Safari the only app running), and after 5 minutes I noticed the warmth again in that lower-left corner. 
explained user ObjectiveTC on the Apple Support Community pages. People are not just imagining this though. A test using an infrared camera has shown that the new iPad does indeed get warmer than the iPad 2. Some users have suggested that their iPads get too warm to hold. We have not been able to experience that though. After playing 3D, graphic-intensive games on iPad for hours, our new iPad did get a tad bit warm.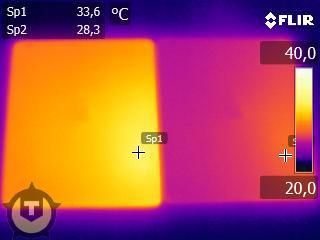 The Dutch website Tweakers has run a few tests on the new iPad and has found that the new tablet runs about 10 degrees warmer than its predecessor (in Fahrenheit).  The site suggests that it could be the new quad-core graphics units that is causing the issue. Your iPad still should not be too hot to hold. Apple has not responded to complaints yet. It is unclear how it would go about solving this.
Does your iPad 3 get too warm for you to handle?
**Disclaimer: Our articles may contain aff links. As an Amazon Associate we earn from qualifying purchases. Please read our disclaimer on how we fund this site.
You may want to see: