iPad 4 Benchmark, iPad Mini Reviews Positive
0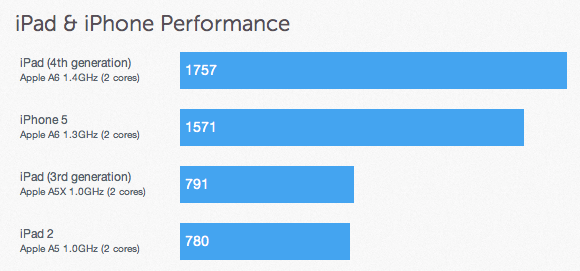 Many iPad 3 owners are still mad about Apple releasing the 4th generation models so early. The changes that Apple introduced in this generation may not look significant on paper. But early benchmarks seem to indicate that they are huge. Geekbench's early benchmark suggests that the iPad 4 with A6X processor outperforms the iPhone 5. Both of those devices have the same amount of RAM. But the iPad 4 has Armv7 inside as opposed to iPhone which has ARMv6 CPU running at 1.3 GHz.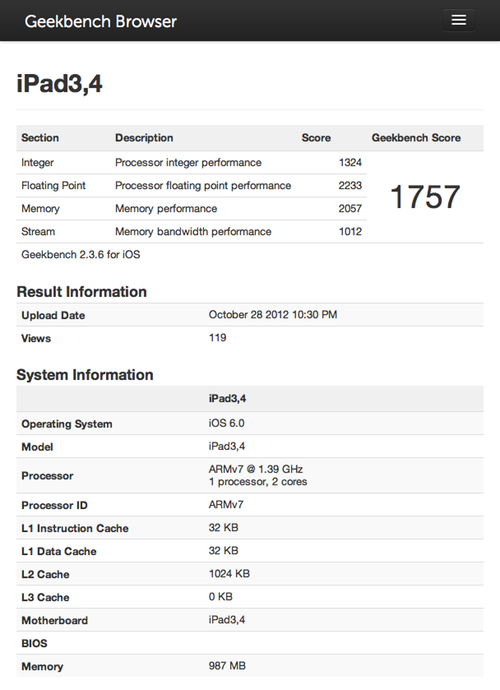 The iPad 4 also blows the old iPad out of the water. It scored 1757 in Geekbnech's benchmark (up from  iPad 3's 791 score). The score for the iPad mini is not known at this point. But considering that it has a dual core A5 processor, it should end up somewhere around the iPad 3. Could Apple have done more to differentiate the iPad 4 from its predecessor? Maybe. But the above numbers suggests Apple has done a lot.
The iPad mini will be reaching millions of homes in the next few weeks and months. It is Apple's cheaper tablet with a 7.9 inch screen. The reviews for the device are already coming out. They have been very positive in general:
iPad Mini is a far classier, more attractive, thinner machine. It has two cameras instead of one. Its fit and finish are far more refined. And above all, it offers that colossal app catalog, which Android tablet owners can only dream about.
stated the NY Time's David Pogue. The apps are going to be a huge factor. Android is catching up in that area fast. But Apple is still dominant when it comes to the number of quality apps for iOS. Daring Fireball's John Gruber puts his finger on the right issue though:
[iPad mini] really light and easy to hold one-handed. But it's disappointing to go non-retina after using the retina iPad for the last seven months….My ideal iPad would be a Mini with a retina display.
Apple could have released an iPad mini with Retina display. But we will probably have to wait a few months for that to happen. It will be interesting to see how this new tablet will affect the sales of Apple's larger iPads.
**Disclaimer: Our articles may contain aff links. As an Amazon Associate we earn from qualifying purchases. Please read our disclaimer on how we fund this site.
You may want to see: