35+ Must See Augmented Reality Toys & Gadgets
0
In the past few years, we have seen plenty of exciting augmented reality apps for iOS and Android. With ARKit, we are going to see even more sophisticated AR experiences released to the App Store. These augmented reality toys and gadgets for kids and adults are also worth a look:
UBTECH First Order Stormtrooper Robot: this Star Wars robot comes with voice recognition, facial recognition, and patrolling capability. It also has an augmented reality app for interactive play.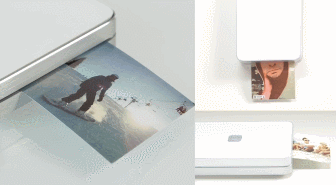 Lifeprint AR Printer: allows you to print augmented reality photos that come to life when viewed through a smartphone. Lets you print Snapchat, Facebook, Instagram, GIFs, and Apple Live Photos.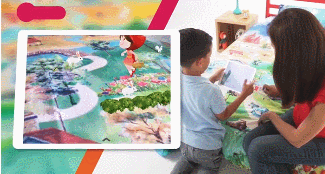 Spin Tales Enchanted Duvet: a beautiful duvet cover with AR characters and stories when viewed through a smartphone.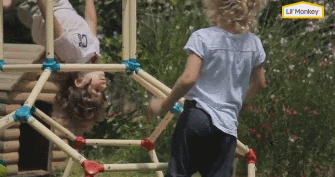 Lil Monkey Dome Jungle Gym: not only keeps your children active but provides them with an interactive experience when viewed through its AR app. The Dome improves motor and cognitive skills.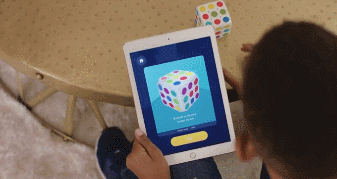 Cube-Tastic!: a 3×3 puzzle cube that serves as a brain teaser for your kids. Users can use an augmented reality solver to learn how to solve the puzzle step-by-step.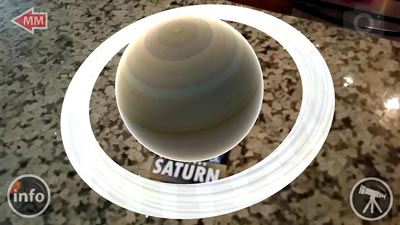 myARgalaxy: augmented reality space cards compatible with iOS and Android. You get cards for the Sun, Venus, and other planets.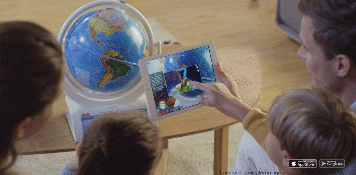 Smart Globe Explorer AR: an interactive globe that teaches your kids 20k facts about the Earth's core and space. It has 6 language options.
SpinTales Augmented Reality Jungle Rug: a cute rug with a play area that comes to life on your smartphone. It has stories with activities to keep your kids busy.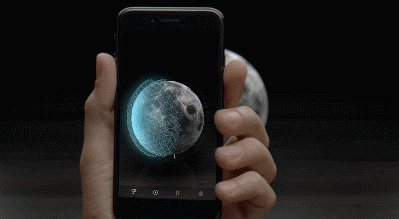 AstroReality LUNAR: a 3D printed moon model with an app that lets you explore its landmarks and facts.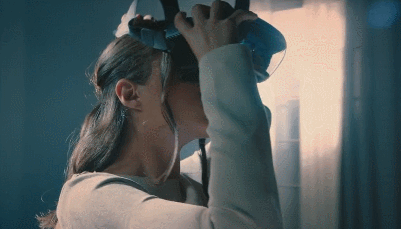 Star Wars Jedi Challenges: brings you AR lightsaber battles and Holochess thanks to Lenovo Mirage AR headset.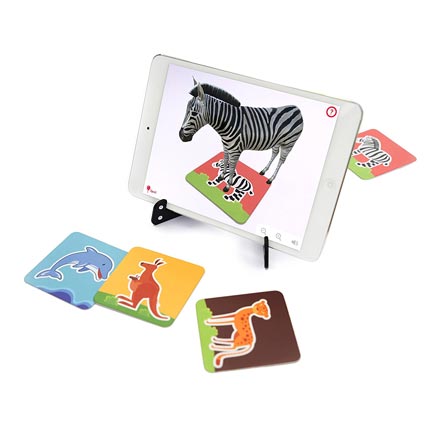 Shifu AR Animal Cards: an educational game for children from 2 to 10 years old. It is compatible with iOS and Android devices. By playing with these, your kids learn what animals eat, where they live, and the sounds they make.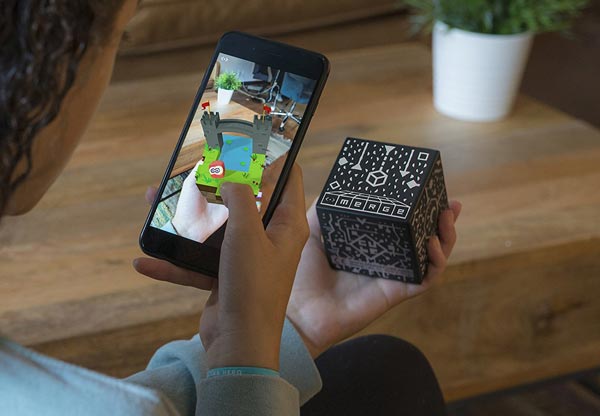 Merge Cube: a holographic toy that lets you play apps and games using your smartphone or VR goggles.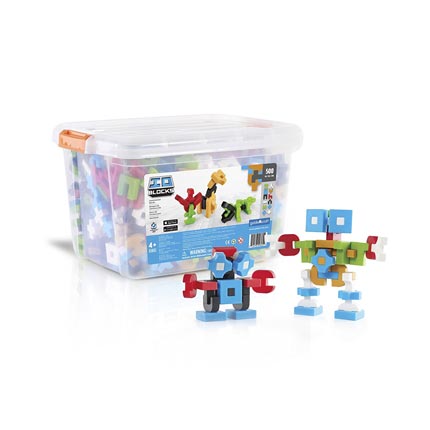 Guidecraft IO Blocks: comes with 500 pieces and an AR app that serves as the visual guide. Users will be able to create robots, vehicles, and more with the blocks.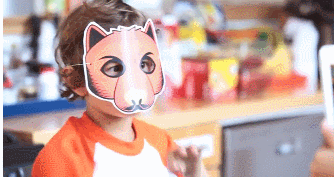 Get Qurious Maker Box: combines physical game pieces with digital play to spark your child's imagination. It comes with interactive games, story cards, and other fun activities.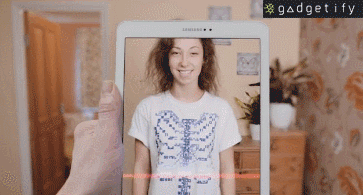 Virtuali-Tee: an AR t-shirt that teaches you human anatomy when looked through a smartphone. It covers heart, bloodstream, and other organs.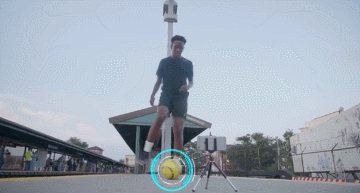 DribbleUp: this app smart soccer ball gamifies training. It has a virtual trainer to improve your shooting and ground work.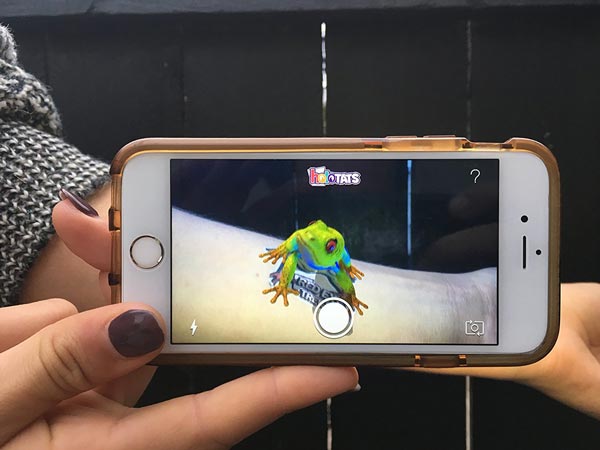 HoloTats Wild Kingdom: AR temporary tattoos that come to life when viewed through the HoloTats app. The set includes golden/tree fogs, polar bears, and African penguins.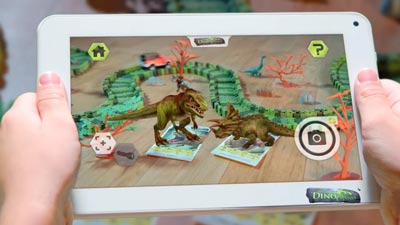 T-Rex Attack Game: combines physical and digital worlds to bring your kids a fun dinosaur battle game. The companion app lets you control your virtual dinosaurs.
Ravensburger Augmented Reality Jigsaw Puzzle: measures 27″ by 20″. It comes with interactive questions about different continents to test you.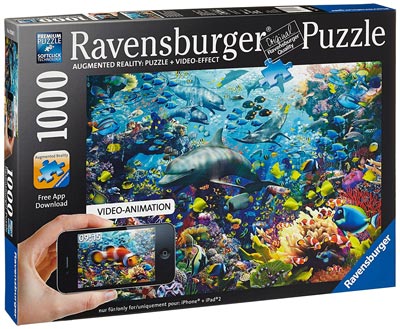 Ravensburger Underwater AR Puzzle: a 1000-piece puzzle with interactive content and audio available in 6 languages.
KIWI augmented reality 4D flash cards: you get 108 interactive flash cards with 54 animals, 27 vehicles, and fruits/vegetables. An AR painting book is also included.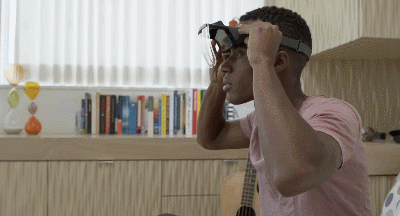 Mira Prism: an augmented reality headset for your iPhone. It lets you experience holographic content anywhere. Mira comes with a Spectator Mode, in which you will be able to record your friends' experience and share it with others.
Optinvent ORA-2: AR glasses for developers that run Android apps. They have Bluetooth, WiFi, and GPS. A 5MP camera is also included.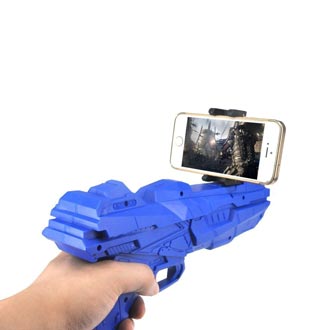 AR Game Gun: so you enjoy playing shooting games on your phone? This gaming gun lets you do that like a pro.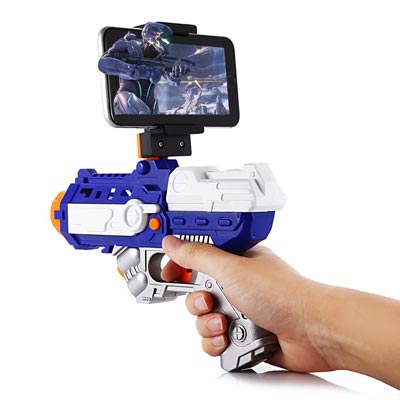 Joyhero ARGun: another Bluetooth 4.0 weapon that lets you play shooter games like a pro. It comes with a built-in virtual radar and supports a whole host of games.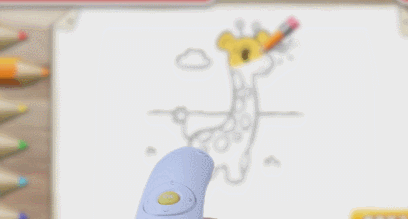 Egger: has games and apps to teach your kids new things. It brings movies and cartoons to any flat surface and supports AR gaming.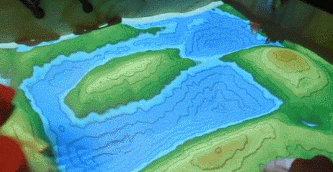 Augmented Reality Sandbox: this project was pulled off using a Kinect camera. It allows users to create topography models by shaping real sand, which is augmented in real-time by an elevation color map, simulated water, and other features.
Time Trial AR Climbing: lets you climb and compete against others in an interactive fashion. You earn points as you move up and touch the numbers that are lit.
Augmented Reality CPR Simulator: teaches you how to perform CPR. Consists of a life-sized mannequin printed with interactive cloth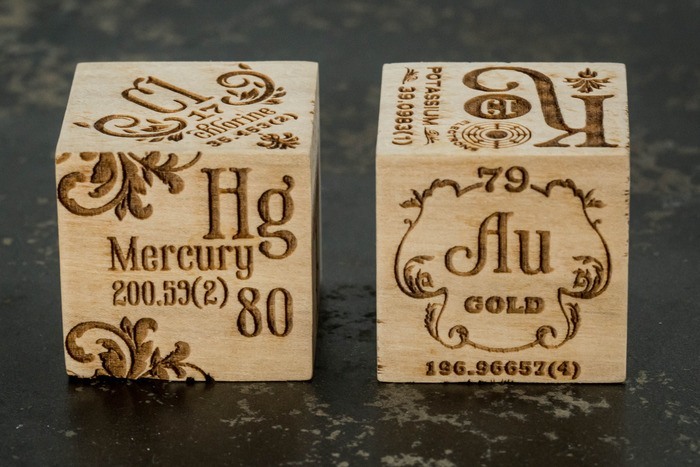 Elements 4D: comes with 6 wooden blocks that teach you chemistry. Their AR app allows you to put two blocks together to see how they react.
KOSKI: AR building blocks game that merges digital world and physical gameplay. It uses your iPad as a magical mirror for a more engaging gaming experience.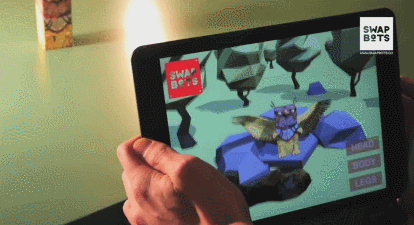 SwapBots: these toys have 3 blocks that can be swapped with other characters, giving you hundreds of combinations. They come to life on your smartphone or tablet.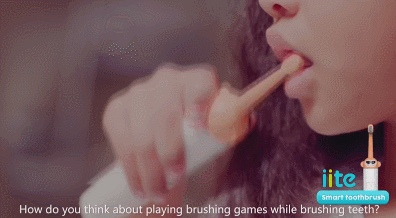 iite S1: a smart toothbrush for your children that teaches them how to brush. It also allows parents to monitor their kids' brushing performance.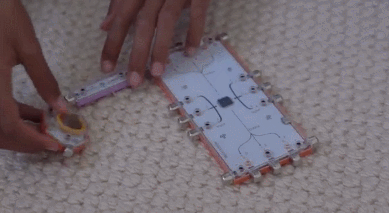 LightUp Tesla Kit: has magnetic blocks that allow users to build circuits fast. It teaches kids electronics, with an AR app that shows why things don't work.
Virtual Turntable: great for businesses interested in using AR to promote their products. It allows people to explore products in 360 degrees from all angles.
ARmKeypad: an augmented reality keyboard on your arm. The system consists of glasses and a smartwatch.
HotRod Henry Supercharged 3D Printer: a FFF/FDM 3D printer with 50 microns layer resolution. It has an AR mode that shows your print before it is done.
Have you found cooler augmented reality and holographic toys and gadgets? Please share them here.
**Disclaimer: Our articles may contain aff links. As an Amazon Associate we earn from qualifying purchases. Please read our disclaimer on how we fund this site.
You may want to see: