15+ Best iPhone Chess Apps for Analysis, Tactics, Online Play
18
Chess is one of the most popular board games around. It is not that hard to learn but takes time to master. By playing games regularly, studying openings/middle game/endgames, and analyzing your games, you will have an easier time improving your rating. Here are some of the best iPhone chess apps that let you play against a strong engine or online players, master chess tactics, and even get serious about Fischer Random Chess:
Popular Chess Apps for iPhone & iOS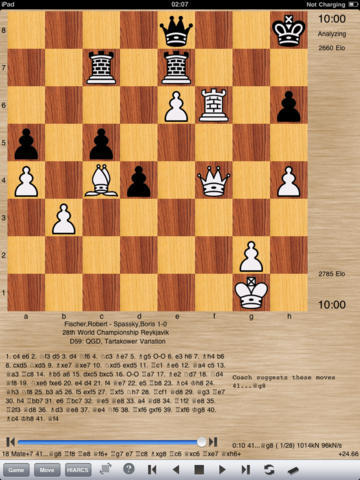 1. Hiarcs Chess:
Those of you familiar with computer chess probably know about Hiarcs having a human-like playing style. Hiarcs Chess has decent graphics and can teach you a thing or two on how to play an opponent that does not make many mistakes. It has a lot to offer to beginners too.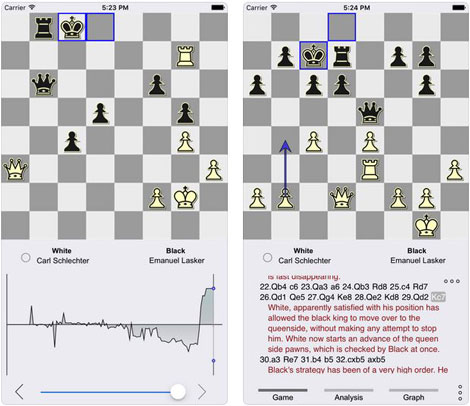 2. SmallFish Chess:
Brings Stockfish to your iPhone & iPad. You not only get to play but can see how Stockfish evaluates any given position. This is a free app.
3. Chess Pro + Coach:
Chess Pro is designed to provide you with chess training. It has multiple levels to improve your level of play gradually. Multiple visual themes and plenty of famous games are included.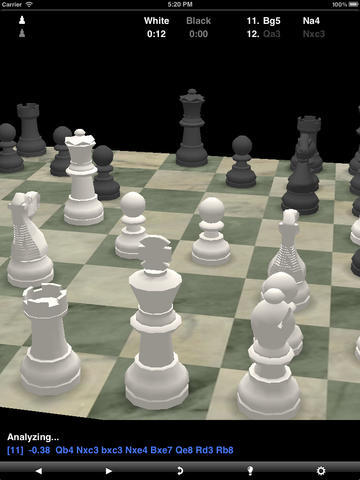 4. t Chess Pro:
t Chess Pro is another tough cookie to crack. It looks gorgeous and comes with multiple levels. Keeps you going until you have improved. It supports blindfold chess too!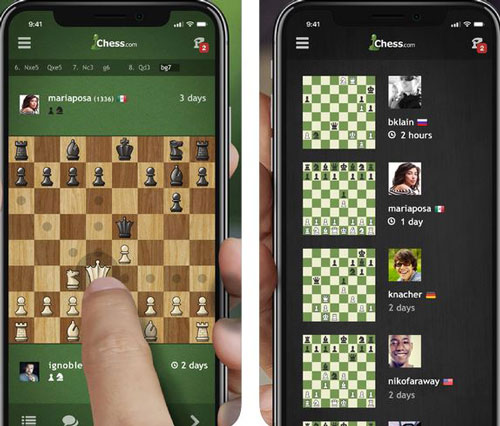 5. Chess.com:
Whether you are interested in playing or learning chess, this iPhone chess app has you covered. Users can challenge their friends online, solve over 60k puzzles, and try interactive lessons and videos. You can also play against the computer.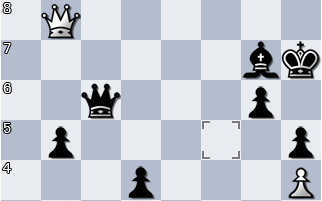 6. Shredder Chess:
Shredder Chess is another powerful iPhone chess engine app. When you get a former Computer chess world champion on your phone, you know you've got a challenge in front of you. This app not only has a strong engine but puzzles and a decent opening book.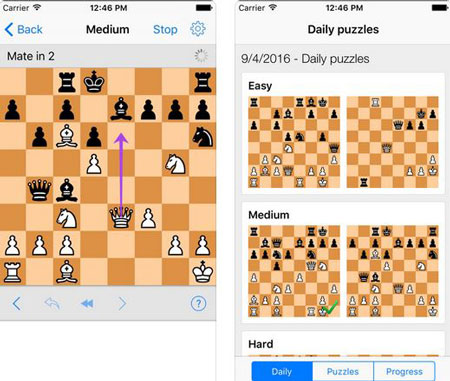 7. Chess Tactics Pro:
A chess tactics app for iOS that improves your game by bringing you daily puzzles. You get a free engine to analyze the puzzles. Several board themes are also available.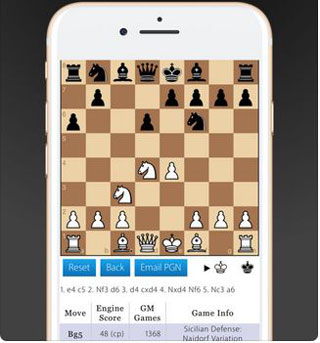 8. Arkon:
This chess opening app for iPhone helps you build a more impressive repertoire. It comes bundled with Stockfish chess engine. You will be able to see move popularity among top grandmasters and compare different lines.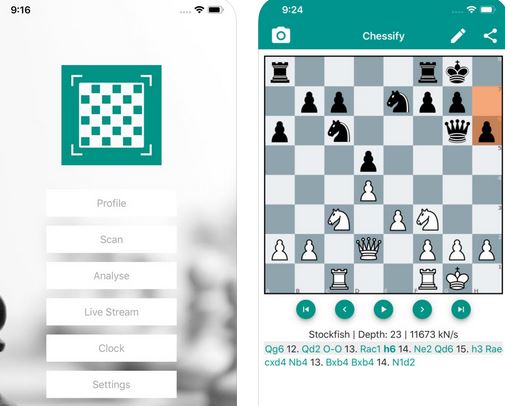 9. Chessify:
Chessify is an iOS app lets you scan chess diagrams from any screen and use Stockfish to do serious analysis.

10. Chess Genius:
Chess Genius has been around for ages. In fact, it was the first computer chess program that I purchased. It looks better than ever on iPhone (even though it hasn't been updated for a while).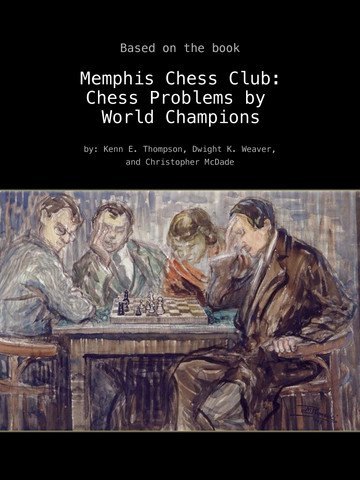 11. Chess Problems:
If you are into solving chess puzzles on the go, Chess Problems for iPhone has got you covered. Comes with 645 chess games you can study to take your game to the next level.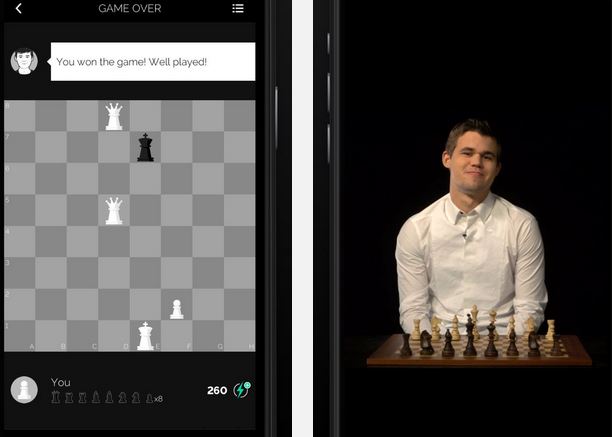 12. Play Magnus:
As the name suggests, this app gives you the chance to play against Magnus Carlsen. For starters, it has a custom engine tuned to play like him. You can also join the challenge for a chance to play against the real one.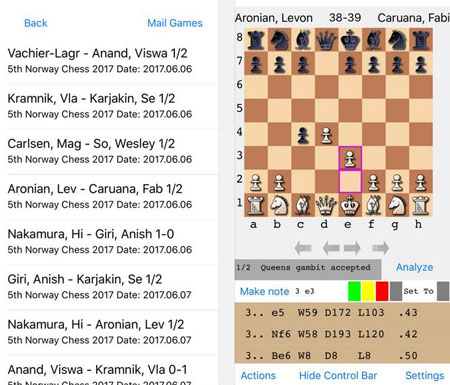 13. OpeningTree:
OpeningTree is a chess opening book with Crafty engine that helps you learn new positions and avoid falling into traps. The book is compiled from 300,000+ high rated games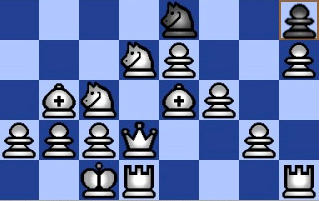 14. Stockfish Chess:
Stockfish Chess is the best free iPhone chess app hands down. You get a very strong engine and a great looking board.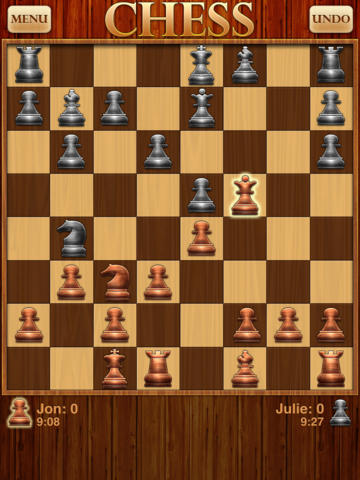 15. Chess Premium HD:
An iPad chess app designed to provide you a clean playing experience. It has decent sound effects too. Might not have the strongest engine but could prove useful for those of you just getting started.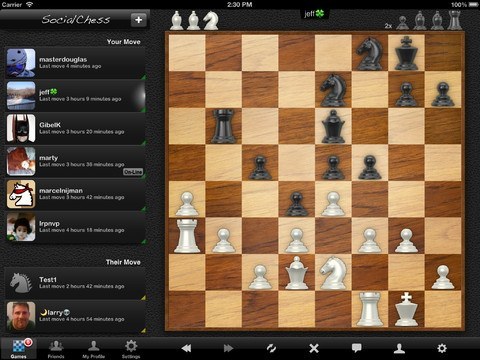 16. SocialChess:
SocialChess happens to be a turn-based chess game for iOS. Those of you familiar with correspondence chess are going to find this application useful. It has a clean user interface and keeps track of your stats too.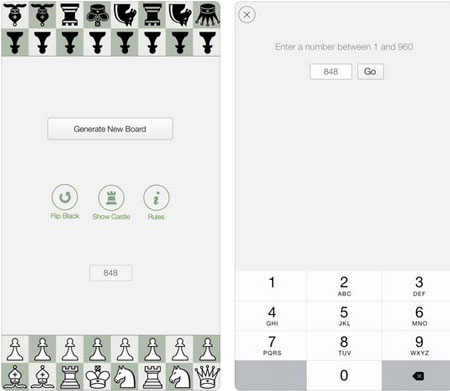 17. Chess960 Generator:
A Fischer Random chess app that lets you generate board configurations fast. You can generate a board by entering an ID or on random. You can also study the rules in case you need a refresher.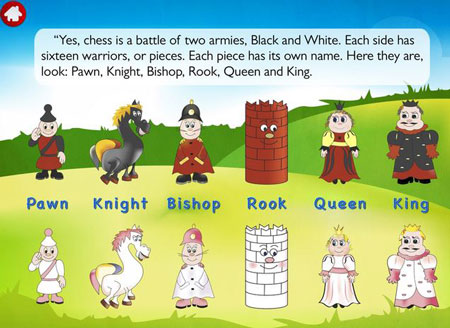 18. Chess for Kids:
An interactive book for iPad that gets your kids familiar with chess rules. It has 12 training chapters, 20 characters, 6 types of games, and 36 missions.
If you love chess, you are going to have a great time trying these iPhone chess apps. They can expand your repertoire, improve your tactics, and even help you do serious analysis.
Don't forget to check out these iPad chess games to have more fun.
**Disclaimer: Our articles may contain aff links. As an Amazon Associate we earn from qualifying purchases. Please read our disclaimer on how we fund this site.
You may want to see: