Apple iTV with Siri Coming in 2013?
1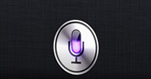 We first heard rumors of Apple making TVs a couple of years ago. It has been one of those projects we all have wanted Apple to take on for a while. For one reason or another, the company has not done that yet. But as Steve Jobs' biography suggests, Apple may have cracked the code in that regard:
I'd like to create an integrated television set that is completely easy to use. It would be seamlessly synched with all of your devices and with iCloud. It will have the simplest user interface you could imagine. I finally cracked it.
There are now rumors going around that Apple will indeed launch a TV set powered by Siri in 2013. The company has invested a lot of effort in getting Siri just right. It plans to slowly but surely integrate it in more iOS devices. Just imagine being able to command your TV to find you good content to watch with the help of Siri. The prospect is quite intriguing. Piper Jaffray's Gene Munster argues iCloud will also be a part of this offering:
… iCloud stores TV shows and pictures, but we believe Apple may add movies. While a solution for live TV combined with previously aired shows "recorded" in the cloud remains a significant hurdle, perhaps this code is precisely what Jobs believed he has "cracked". We also believe Apple could use Siri, its voice recognition, personal assistant technology to bolster its TV offering and simplify the chore of inputting information like show titles, or actor names, into a TV.
There is a lot of speculation involved here. Steve Jobs may have cracked the simple interface part with Siri. But Apple will still need to deliver other features with its TV set. As the NY Times reports, Mr. Jobs believed the HDTV industry was badly broken. He most likely had plans to revolutionize that industry just like the mp3 player and smartphone markets. With Steve Jobs gone, it will be interesting to see whether Tim Cook can deliver a HDTV worth buying.
What features would you like to see Apple offer with its TV (if it indeed ends up making them)?
**Disclaimer: Our articles may contain aff links. As an Amazon Associate we earn from qualifying purchases. Please read our disclaimer on how we fund this site.
You may want to see: