Underground Marketplaces Pushing iPhone To New Levels
0

The story of this past week was Apple going "rogue." A lot of iPhone owners are upset with Apple rejecting applications left and right. Google Voice is not the only app that has been rejected by Apple, but the service is so popular that many fans have all of the sudden become outraged by Apple's controlling ways. Most iPhone fans won't give up their gadget just because Apple wants more control over its platform. They fight back in their own way. One way to do that is by taking advantage of the underground store called Cydia.
If you have ever been interested in jailbreaking your iPhone, you have most likely heard of Cydia. It's an alternative marketplace that lets you get your hands on applications that are not allowed by Apple. So you want your own Google Voice app on your phone? You can always join other Cydia fans and wait till it becomes available with the help of the underground.  The underground iPhone community has been around for quite  while, but it's been gaining momentum in the past few months with Apple and at&t losing their mind. And what does Apple think of services such as Cydia? Apple calls them harmful and illegal. That should really be no surprise to anyone.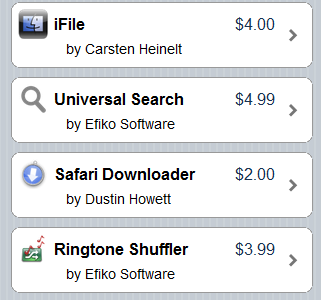 Every Apple fan wishes the company to go back to good old days, but Apple has always been somewhat controlling. That's what made the company great and could bring the company back to earth in the long run. But the underground communities such as Cydia have made the iPhone platform stronger and turned it into one that can't be challenged or duplicated easily. The Apple community may be tired of the company's recent actions but it's not ready to give up on the device. And what a better way to fight back by taking control? Cydia may be small but it's a good start.
Apple's plans are unclear at this point. The company is not exactly thrilled with underground communities such as Cydia, but I would be surprised if Apple decides to go after them harder. What Apple should be thrilled about is the fact that people love its products so much that they are willing to go out of their way to get their favorite rejected apps on their phones instead of giving up completely. For a lot of iPhone owners, quitting is not an option. Chances are Apple will continue going after the underground hacks and the underground fights back. Jailbreakers have stayed one step ahead of Apple for quite some time and for the sake of iPhone's future, let's hope they continue to do so.
**Disclaimer: Our articles may contain aff links. As an Amazon Associate we earn from qualifying purchases. Please read our disclaimer on how we fund this site.
You may want to see: