Amazon Kindle Store Get iPhone Makeover
1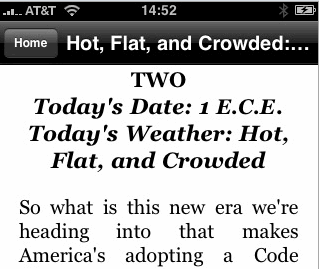 Also check out:
Amazon has been in the e-book market for a few years already. Things have gotten heated up for Amazon with the success of Amazon Kindle. But the company is not satisfied with selling only hardware in this market. That's why it launched Kindle for iPhone to let folks download books and read them on their phone if they prefer. That allows Amazon to have the best of two worlds. Not only Amazon can sell a lot of e-books on iPhone, it can reach out to a lot of folks and use the app to encourage folks to take a chance on its hardware.
If Amazon's strategy was not clear before this week, it should be pretty clear by now. Amazon has been making modifications to its Kindle store to make it more iPhone-friendly. After all, what's the point of creating a free iPhone application if you are not going to use it to push your products and make it easy for your users to get value out of it. Amazon Kindle for iPhone makes it easy to find new content and get your favorite books fast. And Amazon makes a lot of money in the process.
We have been hearing about Apple coming up with a MediaPad to challenge the Kindle. We have not heard the final verdict on that, but I bet Apple is closely watching Amazon. Apple is not in the business of selling books, but the e-book market could prove profitable for whoever comes out on top. Right now Kindle is on top but it wouldn't surprise me if Apple came up with a Kindle killer. Ultimately, it all comes down to how successful the Kindle platform becomes.
**Disclaimer: Our articles may contain aff links. As an Amazon Associate we earn from qualifying purchases. Please read our disclaimer on how we fund this site.
You may want to see: