Apple HDTV in the Works?
0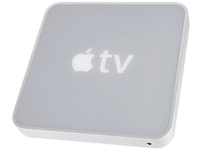 Out of all the crazy rumors that we have heard about Apple's upcoming products, the idea of Apple making HDTVs is not so crazy after all. Especially, if you take into account the fact that Apple has been gradually improving Apple TV in the past couple of years. And let's not forget that Apple owns some of the best mobile digital media devices on the market. So Apple has been building devices that let you consume content at home and on the road. What's missing from Apple's line up is an HDTV.

There is no question that Apple TV still has got ways to go to realize its full potential. The current Apple TV setup box does get the job done, but it's by no means ready to be part of Apple's rumored TV set. An Apple TV set will need a DVR and a better content organizer, and Apple TV needs a bit of improvement to get where Apple want it to be. It's not hard to imagine how this TV set would work though. Just like Microsoft has been doing it with its own products, Apple can create a HDTV that can interact with other Apple products and sync with them. So if Apple plays its cards right, iPhone and iPod owners will be able to sync their devices with Apple HDTV. Let's not forget that Apple is working on its iPad as well. So you may be even able to read books or view documents on your HDTV.

Apple working on a HDTV may sound crazy, but being able to input information to Apple HDTV with an iPhone or iPod is not that crazy after all. The possibilities are limitless here. You can not only enjoy your iPhone content on your HDTV, but you can play games, browse the Internet, and even manage your e-mail, Twitter, and Facebook accounts on your TV.

As great as Apple's HDTV sounds, one has to wonder how much it will cost us. The top of the line HDTVs are not cheap by any means, and I doubt Apple will settle for anything but a premium pricing for its own HDTV. So you could end up parting ways with a few thousand dollars before it's all said and done. The idea would be a decent one to consider as far as Apple is concerned, but we will have to wait and see how many people can afford it.

Trending iPhone, iPad apps:

*Our articles may contain aff links. As an Amazon Associate we earn from qualifying purchases. Please read our disclaimer on how we fund this site.

You may want to see: