Apple vs. Bloggers: Recall or Dismiss?
0
Apple has had a tough year when it comes to dealing with some of the top bloggers in the tech world. We all know about the Gizmodo story by now. Apple went out of its way to get its lost prototype back. Gizmodo getting cold shoulders from Apple right after the debacle (for iPhone launch) showed that Apple may be running out of patience with bloggers. Many companies have tried to control bloggers in the past by giving them access and all kinds of privileges. Not all bloggers can be controlled however. Every mistake that Apple has made is scrutinized heavily by top bloggers. The latest is the company's efforts to discard support threads that cover ConsumerReports' findings in Apple's support forums. It's a PR nightmare that is chipping way at Apple's reputation and credibility with customers.
Also check out: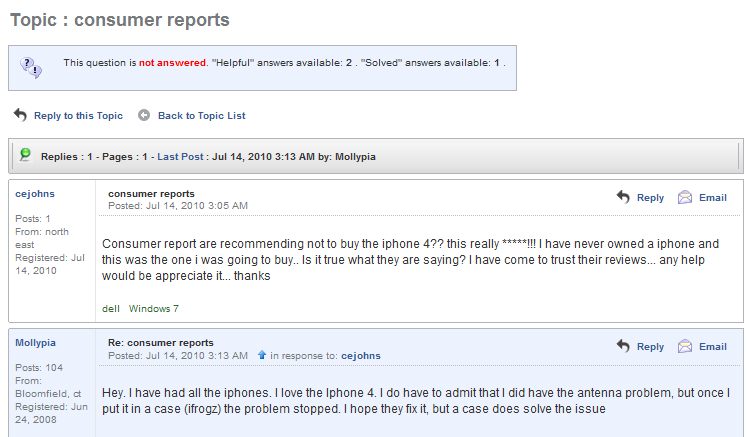 Apple removing discussion threads is a very bad move. It does nothing for Apple while people can find other ways to get the information they need and make their decision. Apple may not be happy with ConsumerReports and all other blogs that keep covering iPhone 4's antenna issue. Unfortunately for the company, this issue is not going to go away by itself. In the age of social media, people do not need Apple's support forums to find out about iPhone 4's issues and the less than favorable reviews the device may have received.
InfoWorld may be right about how Apple has handled this issue. These mistakes have done nothing but help Android and other competing platforms. Apple "fanboys" will stay with the company despite all these errors. The company can't increase its marketshare by focusing only on its fanboys.
Apple is getting some support from experts, but it has not stopped the company's stock from dipping. We are still very skeptical about the possibility of Apple recalling iPhone 4 units. Apple may have tied its own hands by claiming the cause of these problems to be software and not hardware. We will have to wait and see whether that's indeed the case. Did Apple lie? You be the judge.
**Disclaimer: Our articles may contain aff links. As an Amazon Associate we earn from qualifying purchases. Please read our disclaimer on how we fund this site.
You may want to see: