iPhone 4 Order Glitches, Security Breaches Frustrate Fans
0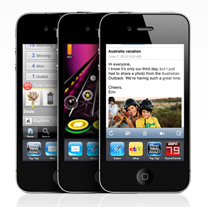 iPhone websites such as this one get some flak for being too harsh on AT&T. After all, the company is doing its best to handle a super device in iPhone. We all knew that AT&T would have issues handling iPhone 4 orders. The demand for the device is going to be huge, and it is no wonder the device is already sold out. We can forgive AT&T for technical issues that frustrated iPhone fans when ordering iPhone. But it's tough to forgive AT&T for exposing its customers' private information to random people.
Just a few days ago, we found out about a major security hole in AT&T's systems that may have exposed a good number of iPad 3G owners' information. Things get worse. It seems AT&T was making huge mistakes when accepting orders online. According to multiple sources, a few users who used AT&T's online order system were sent to the wrong accounts. That means some people's information has been exposed to the wrong people. Not very encouraging if you are planning to do some business with AT&T.
This is a major privacy breach and yet another embarrassment for AT&T. Worse, who knows what type of people have been exposed to this information. If you are lucky, your private information did not end up in the wrong hands. The debacle does not seem very encouraging for people who have not ordered their iPhone already. It is not known how many accounts were compromised or whether the breach is limited to those who tried to pre-order iPhone.
Unfortunately, it does seem that some people care more about getting their iPhone than protecting their private information. That still does not excuse what AT&T has done here. While we want to believe in giving companies second chances, these security breaches at AT&T are more than annoying at this point. AT&T should have tested its systems more rigorously. Sharing people's private information with random people is not a good way to keep customers happy.
How was your experience with AT&T when pre-ordering iPhone 4?
**Disclaimer: Our articles may contain aff links. As an Amazon Associate we earn from qualifying purchases. Please read our disclaimer on how we fund this site.
You may want to see: