Pebble's iPhone App Debuts, iPads to Replace Windows PCs?
0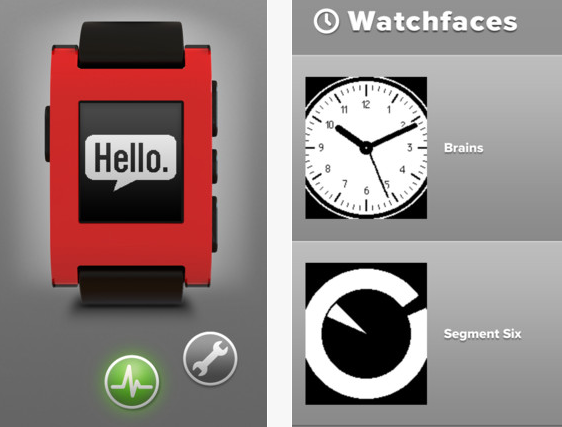 Remember Pebble Smartwatches? Pebble Technology which happens to be behind the Pebble e-paper watch has announced that early backers should be receiving their orders very soon. The announcement was made on Kickstarter:
Pebble will start shipping today [1/23] ! We'll be sending out the first batch to the very first backers this afternoon. There are still some kinks and issues that we need to work out, but I'm glad to say we've made it this far.
Less than 500 units have gone out but more are expected to ship soon. More importantly, the iOS companion app for the watch has made it to the App Store. The app was submitted to Apple a couple of weeks ago. It lets users customize the behavior of their watch. Pebble connects to your iPhone using Bluetooth and alerts you to incoming calls and new messages with a silent vibration. The app enables users to install custom watch faces and send ping test messages to the device. It keeps track of new updates too. It is available for free in iTunes.
It is no secret that Apple has seen better days. Even though the company has sold a ton of devices, investors are not too happy with its growth rate. Apple is selling a ton of iPhones and iPads but it may need new products to regain its growth momentum. As it turns out, Apple is selling less Macs. So are iPads cannibalizing Mac sales? Tim Cook does not seem too worried about the idea:
I see cannibalization as a huge opportunity for us. Our base philosophy is to never fear cannibalization. If we do, somebody else will just cannibalize it. We never fear it. We know that iPhone has cannibalized some iPod business. That doesn't worry us that it's done that. We know that iPad will cannibalize the Mac. That doesn't worry us. On iPad in particular, we have the mother of all opportunities here, because the Windows market is much, much larger than the Mac market is, and I think it is clear that it's already cannibalizing some, and I think there's a tremendous amount more opportunity there…. The other thing for us — maybe not for others, but for us — is if somebody buys an iPad mini or an iPad, and it's their first Apple product,  we have great experience through the years of knowing that when somebody buys their first Apple product, a percentage of these people end up buying another type of Apple product.
Apple is very dominant in the tablet PC market but things could always change rapidly in this industry. According to Apple, a lot of exciting products are in store for us this year. We will have to wait to see whether Apple can truly deliver on that promise.
**Disclaimer: Our articles may contain aff links. As an Amazon Associate we earn from qualifying purchases. Please read our disclaimer on how we fund this site.
You may want to see: