Steve Jobs and Cancer: Vicious Rumors
0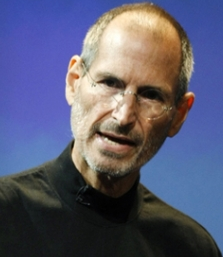 Steve Jobs is one of the most powerful men in the world. He is the head of one of the most innovative and valuable companies in the tech world. Those of you who have followed Steve Jobs' story closely already know that he is dealing with some health issues and has had to step away from his work to focus on getting healthy. Unfortunately, even Steve can't escape tabloid websites and their vicious rumors. According to multiple sources, Steve Jobs is getting treatment at Stanford Cancer Center in Palo Alto, California. He has not been one to carry a whole lot of extra weight around but National Enquirer claims that the boss has lost even more weight.
Trending iPhone, iPad apps:
Here is where things become out of control. Some of these tabloids are now claiming that Steve Jobs has only 6 weeks to live. Dr Samuel Jacobson, a critical-care physician, has allegedly looked at some of the recent pictures of Steve Jobs and concluded that Steve Jobs is on his death bed. Dr Gabe Mirkin has agreed:
He is terminal. What you are seeing is extreme muscle wasting from calorie depravation, most likely caused by cancer. He has no muscle left in his buttocks, which is the last place to go… He definitely appears to be in the terminal stages of his life from these photos. I would be surprised if he weighed more than 130lb.
He "appears" to be dying? That's how absurd this story is at this point (considering that we have no proof whatsoever whether Steve is really dying). Fortunately, tabloids have been wrong in the past and are most likely wrong here. Regardless, it is very unhealthy for businesses such as Apple to have to deal with these kinds of rumors. We have known for quite some time that some Apple shareholders are pushing the company to reveal its succession plan. That has nothing to do with the fact that Steve Jobs may or may not be dealing with an advanced stage cancer. Of course, he is feeling so horrible that he and some other powerful figures will have a meeting with president Obama soon.
In the age of social media, it is so easy to let things get out of control. Apple and Steve Jobs have decided to not talk about his health issues. To assume that this person has only a couple of weeks to live just because he has lost some weight is a vicious attack on Apple and Steve Job's privacy. Apple will continue to be strong with or without Steve Jobs. As far as Steve Jobs' rumors are concerned, we might as well start talking about unicorns.
[image credit:
Fox
]
**Disclaimer: Our articles may contain aff links. As an Amazon Associate we earn from qualifying purchases. Please read our disclaimer on how we fund this site.
You may want to see: