TwitterPeek: One Dimensional Devices Making a Comeback?
0
Peek has been around for a while now. It's a device that is designed to allow its owners to text for free without having to pay for one of those more advanced smart-phones. TwitterPeek is the latest device by manufacturers of Peek that targets Twitter users. Let's say you want to stay in touch with your Twitter followers on the road without having to pay for a data plan with AT&T or Verizon. TwitterPeek lets you do that, and it doesn't empty your pocket. The company does tout the fact that TwitterPeek doesn't cost you as much as more advanced phones (like iPhone). But does it have a future?
Trending iPhone, iPad apps: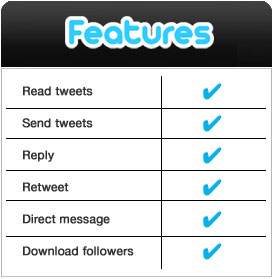 So TwitterPeek is cheap and lets you tweet for cheap? Does that mean one trick pony devices are making a comeback? In fact, TwitterPeek and similar devices are flawed in a lot of ways. Those who have come to play with Twitter clients on iPhone and other top smartphones are going to find it difficult to play with TwitterPeek. The iPhone may cost you a bit more money but it's more than just a phone. It can be a Wave device, a Twitter device, an e-mail device, and much more.
Sometimes you have to wonder what these companies are thinking? Will TwitterPeek have a future? It's tough to say. The device has the potential, but it's banking mainly on the state of economy. Twitter has grown fast in the past few months, but there are still people who are just getting started with Twitter and don't necessarily use it all the time. Are those people likely to pay for a dedicated Twitter device? The more advanced Twitter users are likely to carry an iPhone and Blackberry with them already, so I can't see them picking up this device either. TwitterPeek is a niche device and may find its fans. At the same time, the concept behind it is backward looking and flawed.
Apple's success with the iPhone has demonstrated that the days of one trick pony devices are over. TwitterPeek, standalone GPS devices, and low-end e-book reader all fit that category. Everybody wants to save money these days, but purchasing a device that offers only one service is not convenient. In case of TwitterPeek, it comes down to design and overall Twitter experience on the go. Your Twitter experience on iPhone will be richer, and you won't have to carry around a whole lot of gadgets. Let's not forget the development side of things either. TwitterPeek may be a recession friendly gizmo but like other one trick pony devices, it misses the mark badly.
Your take: does TwitterPeek have a future?
**Disclaimer: Our articles may contain aff links. As an Amazon Associate we earn from qualifying purchases. Please read our disclaimer on how we fund this site.
You may want to see: