iPad vs. iPhone 4: Can Apple Win?
3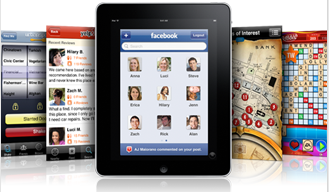 Apple has perhaps the most interesting community of fans. The company has delivered some powerful products in the past few years, but whatever it does, Apple fans never fail to find a reason to be upset with Apple. Take Apple iPad for instance. The device was announced just a few days ago, but Apple fans have already started bashing the device from various angles. We are not just talking about technological short-comings here. Even the name iPad seems to be getting a lot of heat from the fans.You can obviously come up with lots of jokes around that name, and shows such as Mad TV don't ever miss a chance to rub it in:
The fact that Apple did not introduce a Verizon iPad was certainly disappointing. After all, a lot of us were hoping that Apple would end its exclusive agreement with AT&T to bring its devices to Verizon and T-Mobile. That could still happen, but as far as the iPad is concerned, it won't be happening as soon as many of us expected. There have been a lot of rumors about Apple not being too happy with AT&T, but those seem to be no true as AT&T has gotten a strong backing from Apple. Add the iPad to the mix, and the relationship doesn't look as rocky as some have us believed.
The iPad is not perfect. It has some short-comings, and it is not as fancy as some prefer. At the same time, it's a first generation device and not a 4th generation one. Some people seem to believe that Apple iPad is supposed to be iPhone 4 gen enlarged. That's not quite true. Sure. It'd be nice to get better connectivity features and even Adobe Flash on the device, but Apple is off to a decent start with its new creation.
Apple's new device is certainly not perfect, but many forget the fact that the price is much lower than most experts had predicted. I am sure iPad 2.0 will be that much better as Apple will learn from some of its mistakes. Many will bash the first generation iPad, but they will also line up to be among the first who get their hands on the device. After all, Apple's shiny devices are very hard to resist!
**Disclaimer: Our articles may contain aff links. As an Amazon Associate we earn from qualifying purchases. Please read our disclaimer on how we fund this site.
You may want to see: