Jailbreakers Getting Frustrated with Apple?
1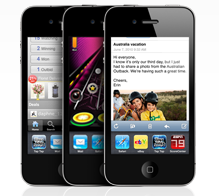 Regardless of how one feels about jailbreaking and those behind it, there is no question that iPhone Dev Team has contributed a lot to the iPhone community. The team has been constantly providing hacks for iPhone updates to help those who want to try cydia applications or do other things get around the limitations Apple has put on iPhones. Unfortunately, Apple is hell bent on stopping the practice altogether. It has tried and failed in its legal efforts, but it may add a kill switch to stop jailbroken iPhones from operating the right way. While iPhone Dev Team has not given up on jailbreaking, it does not intend to play the "cat and mouse" game with Apple no more:
Also check out:
it's a few weeks later, and Apple has closed the jailbreakme.com hole.  They're shipping devices with FW 4.0.2/3.2.2, impervious to this particular jailbreak.  So now, people will begin to ask: will there be a jailbreak for devices that shipped with 4.0.2/3.2.2, out of the box? No, there won't be.  FW 4.0.2/3.2.2 was *only* released to fix the jailbreakme hole.  With FW 4.1 still in its beta stages, it makes no sense to escalate the "cat & mouse" with Apple for FW updates that only fix the jailbreak holes.
Unlike what a few other sources have reported, the team has not given up on the practice altogether. The war against Apple has not ended, but the company is making life more difficult for jailbreakers each day.
If the cat & mouse game escalates too quickly, especially during beta FW periods, nobody but Apple benefits.  For this reason, there won't be a 4.0.2/3.2.2 jailbreak specifically during the period where 4.0.2/3.2.2 is the latest public release.  At best, some future 4.1x FW jailbreak *may* be compatible with 4.0.2/3.2.2 (but don't count on that).
Should you jailbreak your phone? There is no reason not to. But everyday that passes by, it becomes more difficult to do it with peace of mind. We still do not know what Apple intends to do with its kill switch and how it will be implemented. Having your iPhone warranty cancelled and your device disabled by Apple is not something anyone looks forward to. Apple won't give up on its quest to stop all crackers anytime soon though.
Trending iPhone & iPad compatible gadgets:
**Disclaimer: Our articles may contain aff links. As an Amazon Associate we earn from qualifying purchases. Please read our disclaimer on how we fund this site.
You may want to see: