Al Franken: Add Privacy Policy for Apps
0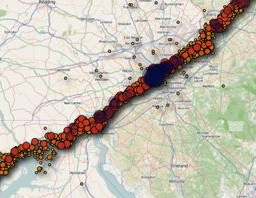 In this day and age when a significant number of people do not mind sharing all kinds of personal information on social networks, Apple has found itself mired in a tricky situation with the Congress. Apple was recently caught for tracking iPhone users' location. It is true that the company may be able to use this information to provide more sophisticated services to its customers. More importantly, the data saved on iPhone cannot be accessed unless someone comes to physical possession of it. Some people just don't want to be tracked though. Apple is planning to address these concerns:
More like this ➡️
here
Beginning with the next major release of iOS, the operating system will encrypt any local cache of the hotspot and cell tower location information. Prior to the [iOS 4.3.3] update, iTunes backed up the local cache (stored in consolidated.db) as part of the normal device backup if there was a syncing relationship between the device and a computer. The iTunes backup, including consolidated.db, may or may not have been encrypted, depending on the customer's settings in iTunes. After the software update, iTunes does not back up the local cache (now stored in cache.db).
The Congress has been looking into the policies adopted by Apple and Google. Now, Al Franken is encouraging Apple and Google to add privacy policies to their apps:
Unfortunately, neither of your companies requires that apps on your stores have a privacy policy. As a result, a significant portion, and potentially a majority of apps, on your stores lack privacy policies… it would be a simple first step that would provide users, privacy advocates, and federal consumer protection authorities a minimum of information about what information an app will access and how that app will share that information with third parties.
Apple has exerted more control over the apps that actually make it to its app store. Google Android Market feels like a wild jungle in comparison to what Apple offers. As Mr. Franken suggested, adding privacy policies to applications does not necessarily address all the concerns that consumers may have about what some of the apps do with their data. But it is a good place to start.
The Congress has been contemplating internet privacy bills for a while now. Do Not Track Me Online Act is a good example of that. This debate is not done by a long shot.
**Disclaimer: Our articles may contain aff links. As an Amazon Associate we earn from qualifying purchases. Please read our disclaimer on how we fund this site.
You may want to see: