AT&T + iPhone 4: King of Dropped Calls
0
Before Verizon started offering iPhone, AT&T customers really did not know what they were missing. It is true that Verizon iPhone is not without its flaws. It does not run on a 4G network and has some limitations in comparison to AT&T iPhone. At the same time, it does seem Verizon iPhones offer less dropped calls. For years, many blamed "data greedy" iPhone owners for AT&T's network issues. Apparently, Verizon has less issues handling the load iPhone puts on its network.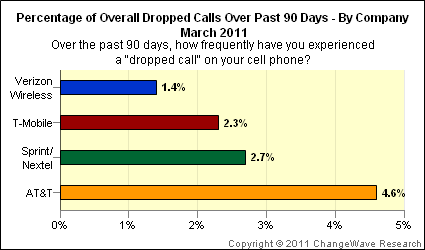 A recent survey by ChangeWave clearly demonstrates that AT&T is a king among wireless providers. It just happens to be king in the wrong category. Verizon seems to have the lowest dropped calls whereas AT&T has the highest. Both networks do drop calls. When it comes to Verizon iPhone, only 1.4% of those surveyed saw their calls dropped. AT&T's rate was much higher at 4.8%.
Verizon and AT&T iPhone 4 devices are very similar. We are not talking about apples and oranges here. So far, as ChangeWave put it, AT&T has not managed to handle its iPhone load as well as its competitor:
In sum, while the survey finds overall customer satisfaction ratings are virtually indistinguishable between Verizon iPhone 4 owners and AT&T iPhone 4 owners, there are apparent differences in the relative percentage of reported dropped calls where in the current survey Verizon is outperforming its industry rival.
It is too early to tell but so far Verizon is offering a slightly better service to iPhone owners than AT&T. Will AT&T bounce back? With iPhone 5 coming up fast, AT&T needs to get more aggressive handling these issues.
**Disclaimer: Our articles may contain aff links. As an Amazon Associate we earn from qualifying purchases. Please read our disclaimer on how we fund this site.
You may want to see: