iPad Repair? That Will Cost You
5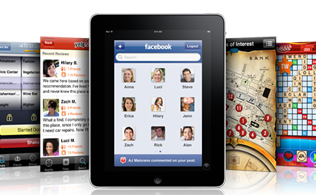 The iPad has been met with a lot of enthusiasm by Apple fans. You don't have to be a genius to realize that Apple fans just dig the device. iPad review videos are getting thousands of videos on YouTube, and people don't seem to be able to stop pre-ordering the iPad. The sales number for iPad has approached 160,000 by the end of this past weekend. So the device has had some level of success even if you go by Apple's lofty standards. Those who are interested in picking up an iPad need to realize that the device is not perfect. It's not just about its lack of camera. The device is in its first generation, so it will have glitches and issues. Apple certainly doesn't make it easy on its customers either.
According to multiple reports, Apple will not make it easy for iPad owners to repair their battery or replace it themselves. Why do that when you can charge people $99 + s/h to repair their device? At this point, Apple seems to be planning to replacing iPads with damaged batteries with brand new models. Could it be that replacing your iPad battery is going to be so complicated or costly that even Apple doesn't want to deal with it? AppleCare for iPad is not something to write home about either. The device is only covered for 2 years and does not seem to provide coverage in all states. Florida seems to be one of those states though we are sure Apple will think of something. The good news is that iPhone developers are rushing to bring their apps to iPad and develop new ones. The device opens a new set of doors for developers to make money with their skills, so it's no wonder top developers are more excited about the iPad than some consumers. What we are most excited about is the iPad supreme. After all, it's not everyday that you can blow $20K on a tablet that comes with those shiny stones.
Trending iPhone, iPad apps:
It's truly disappointing to see Apple make life so difficult for its customers. I am sure many iPad owners would appreciate getting a new unit when their device runs out of battery. But it's just inconvenient and does not give us many choices. Besides, who knows how long the battery will be able to hold its charge. If you look at AppleCare plans, it probably won't be too much longer than 2 years. That would be somewhat acceptable for a laptop, but I am not sure tablet fans would appreciate having to cough up $99 every couple of years. Of course, you can always open your iPad and void your warranty in the process. That's a story for another day however.
What are your thoughts on the whole Apple iPad battery issue?
**Disclaimer: Our articles may contain aff links. As an Amazon Associate we earn from qualifying purchases. Please read our disclaimer on how we fund this site.
You may want to see: