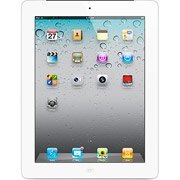 We are only days away from iPad 2's official release date. Apple did allow its customers to pre-order its new products in the past. Unfortunately, that is simply not the case for iPad. The fact that many iPhone fans did not get in lines to get their hands on Verizon iPhone may have contributed to that decision. The good news is the iPad will be available in multiple stores. Apple, Walmart, Target, BestBuy, and Verizon are just a few places iPad fans can pick up their new tablet from.
Apple's pricing strategy is simple. It still has the most aggressive pricing strategy on the market:
iPad 2 16GB Wi-Fi: $499.00
iPad 2 32GB Wi-Fi: $599.00
iPad 2 64GB Wi-Fi: $699.00
Add $130 to each for wireless models.
Most retailers start selling iPad 2 sometime on Friday, March 11th. According to a chat between MacAppsDaily and an Apple sales representative, iPad 2 will become available through Apple starting  at 12:01 AM on March 11th. Shoppers have the option to pick up their tablet from Apple stores starting 5 PM the very same day and get free setup in the process.
Walmart already has iPad 2 models listed and ready to go when the time is right. BestBuy has iPad 2 models listed as well. Verizon's retail stores will also have iPad 2 available on Friday. As is the case with Apple stores, you should most likely not show up before 5 PM for your iPad 2. That applies to Target customers too:
More like this ➡️
here
We will be offering all 18 versions and price it as all other retailers have, starting at $499
Target intends to start a trade-in program for the original iPad. That should give you another idea what to do with your original iPad.
At this point, it seems Apple is hoping for long lines on March 11th. That means you are probably better off trying to order your device online. You won't get it the same day. But Apple promises fast shipping, so your iPad should come on Tuesday or Wednesday of the week after. Those of you who are planning to go to physical stores may want to consider purchasing your device from Walmart or Target just to save yourself from standing in line for long.
How are you picking up your iPad?
**Disclaimer: Our articles may contain aff links. As an Amazon Associate we earn from qualifying purchases. Please read our disclaimer on how we fund this site.
You may want to see: