New iMacs Coming by December, Apple iTV Next
0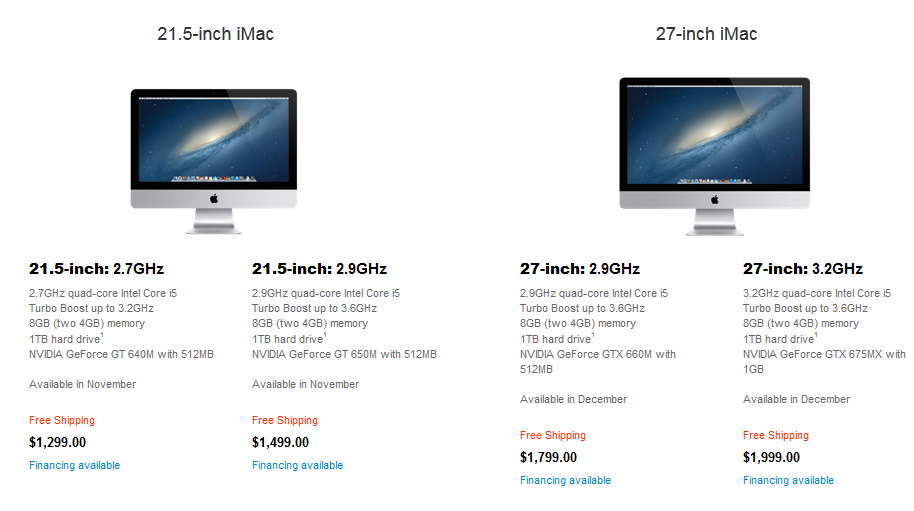 It is no secret that some Apple fans and analysts have been disappointed with some of the products that the company has released this year. Apple is still on track to have a huge holiday shopping season considering how well iPad minis, iPad 4s, and iPhones have been selling. The redesigned iMac is quite an exciting device as well. There have been rumors that the new 21.5 and 27 inch iMacs may be delayed till 2013. According to 9 to 5's Mac, that is not exactly true.
The 21.5 and 27 inch iMacs were slated to be released in November and December respectively. Nothing seems to have been changed in that regard as far as Apple is concerned. These shiny machines are going to be very much in demand. But Apple is not going to miss its chance to sell a ton of these units by the time this year is done and dusted.
The iMac may be a very exciting product. But many of us are simply excited about the possibility of Apple releasing its own TV sets. Tim Cook has promised very exciting products for 2013. Could Apple TV sets be on the cards? Jefferies analyst James Kisner has cited a source within an unnamed cable provider who has told him cable firms may be getting ready for a revolutionary Apple TV product.
Without knowing the details of Apple's new product and how it will be marketed, it's clearly very difficult to even begin to estimate the potential impact on cable networks … However, it's not hard to imagine, in our opinion, that a household with an Apple TV might watch/purchase several incremental IP-based videos per month, driving robust IP data consumption in Apple TV households,
stated Kisner. These are all rumors at this point but Apple has been toying with the idea of releasing its own iTVs for quite some time. After all, this did seem to be Steve Job's final project before he passed away. It will be interesting to see whether Apple can deliver a truly revolutionary TV experience through its own iTVs in the near future.
**Disclaimer: Our articles may contain aff links. As an Amazon Associate we earn from qualifying purchases. Please read our disclaimer on how we fund this site.
You may want to see: