Motorola Takes Digs At All Tablets
0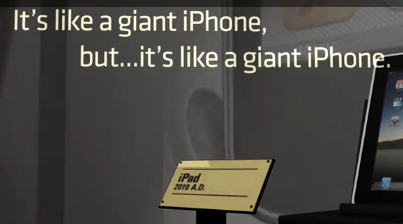 For years, we have been hearing about companies that aim to kill iPod or iPhone. Motorola smart-phones have not come any close to doing that, but they have fared much better against the iPhone, in comparison to other smart-phones. There is no question that Motorola's upcoming Android tablet could be a worthy challenger to Apple iPad. But an iPad killer? That is too hard to predict at this point. Motorola is already positioning its "secret tablet" as being superior to other tablets. It even uses the old, tired "it's like a giant iPhone" line to describe iPad.
Motorola's tablet is rumored to run Android 3.0 honeycomb right out of the box. It is expected to have a dual core processor and a number of other features making it a formidable challenger to iPad. Will it be a giant Droid X? It probably will be if we go by Motorola's claim about iPad.
The above video is an interesting attempt by Motorola but it does not show what iPad 2 will be all about. 2nd generation iPad is not only expected to be more compact but will have cameras and a SD card slot. Apple could potentially mimic Android Voice Actions on future idevices. It has posted a couple of very interesting job listings online in the past few weeks. One of these listed jobs will revolve around speech-related development:
You will work with our team on a wide variety of speech-related development activities
Considering all the upgrades that Apple is planning and all the discounts being offered on existing Apple products at this point, other players will struggle to keep up with Apple for the foreseeable future.
**Disclaimer: Our articles may contain aff links. As an Amazon Associate we earn from qualifying purchases. Please read our disclaimer on how we fund this site.
You may want to see: